Charting the Course for a Safer Cybersecurity Landscape: Keepnet Labs' Stint at InfoSec Europe in London 2023
In the dynamic world of information security, it's essential to not only stay ahead of emerging threats but to innovate and redefine solutions to persistent challenges.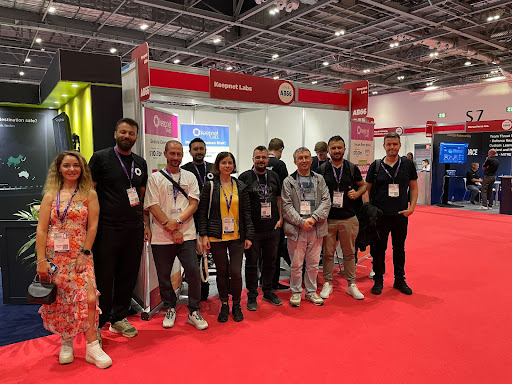 In the dynamic world of information security, it's essential to not only stay ahead of emerging threats but to innovate and redefine solutions to persistent challenges.
This year at InfoSec London, Keepnet Labs did just that.
As a hub of cybersecurity brilliance, Infosec Europe draws together thought leaders, decision-makers, and practitioners from around the globe. Among these, Keepnet Labs emerged with pioneering solutions that caught the attention of professionals and established an influential presence.
The Keepnet Labs team, led by CEO Ozan Ucar and comprising key members from both the UK and Europe, was excited to demonstrate our commitment to the cybersecurity community. We unveiled two groundbreaking products, our Voice and SMS Phishing Simulators, designed to mitigate the threats of voice phishing (vishing) and SMS phishing (smishing).
"We showcased our state-of-the-art human risk management platform, including the newly introduced Voice and SMS Phishing Simulators," said Ucar.
"Our strong team presence and the positive reception to our innovations were testaments to our unwavering commitment to making digital environments safer and more secure."
Let's delve a bit deeper into these two innovations.
Our Vishing Simulator takes on voice phishing, a social engineering attack that costs businesses an average of $14 million per year. This AI-powered tool, equipped with over 200 ready-to-test simulations in 160+ languages, helps organisations assess their security culture and effectively train employees to counter such threats.
Simon Nicholls, our UK VP of Sales, shared his thoughts on the experience: "Showcasing our products to thought leaders in the security sector was a great experience. The positive feedback we received about our Keepnet product suite, particularly the Vishing Simulator, has been incredibly encouraging, further inspiring us to innovate."
But vishing is just one side of the phishing coin.
Our Smishing Simulator targets SMS phishing, another pervasive form of cyberattack. With a staggering 76% of businesses having been targeted by smishing attacks, we saw the necessity of creating a robust defense mechanism.
David Trillo and Olivier Allen, our Sales Development Representatives, also marked their first-time attendance at InfoSec. They both relished the opportunity to showcase our Smishing Simulator to potential customers and receive feedback.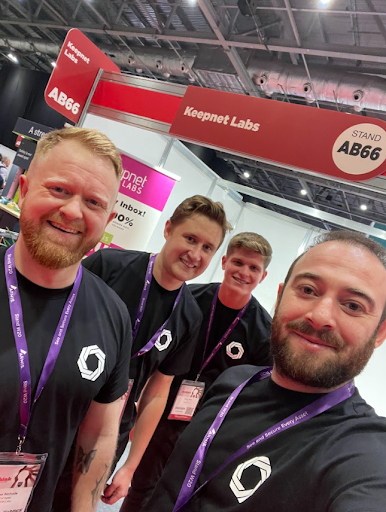 According to Allen, "We introduced our brand-new smishing module on the platform and showcased the full platform to potential customers. We had great conversations with many visitors, and the feedback about the product was excellent. I am really looking forward to the next event where we can continue to collaborate and demonstrate the Keepnet platform."
BEYOND THE INFOSEC: KEEPNET'S EXCLUSIVE EVENT
In the spirit of fostering deeper connections and collaboration, Keepnet Labs hosted an exclusive event beyond the confines of InfoSec's walls. The event took place in the picturesque garden of our Kennington office. 47 C-level executives, leaders who drive the strategic direction of their organisations, were in attendance.
This gathering presented a unique opportunity to engage in insightful discussions about the current cybersecurity landscape, the challenges it poses, and the innovative solutions shaping its future.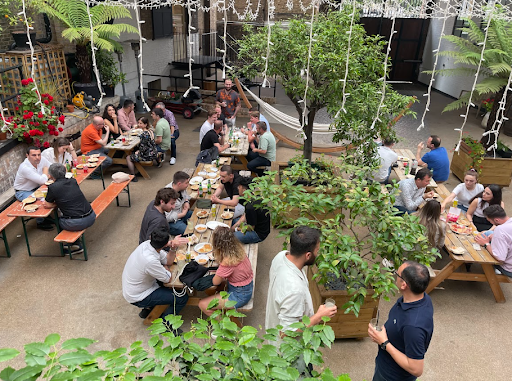 The event not only strengthened our relationship with industry leaders but also served as a platform to echo Keepnet Labs' commitment to fostering collaboration and innovation in cybersecurity. As Ucar aptly noted, "This gathering was a clear demonstration of our commitment to fostering industry-wide collaboration and innovation in cybersecurity."
Keepnet Labs' participation in InfoSec London 2023 was not simply about showcasing our innovative solutions but also reaffirming our commitment to a safer digital world. As we reflect on this year's event, we're filled with anticipation for what the next one holds. The future of cybersecurity is exciting, and Keepnet Labs is proud to be at the forefront, creating solutions that contribute to more.
Click for a free, personalized demo and discover how we can fortify your cyber defenses