Projected Growth and Key Drivers of the Managed Services Market (2021-2026)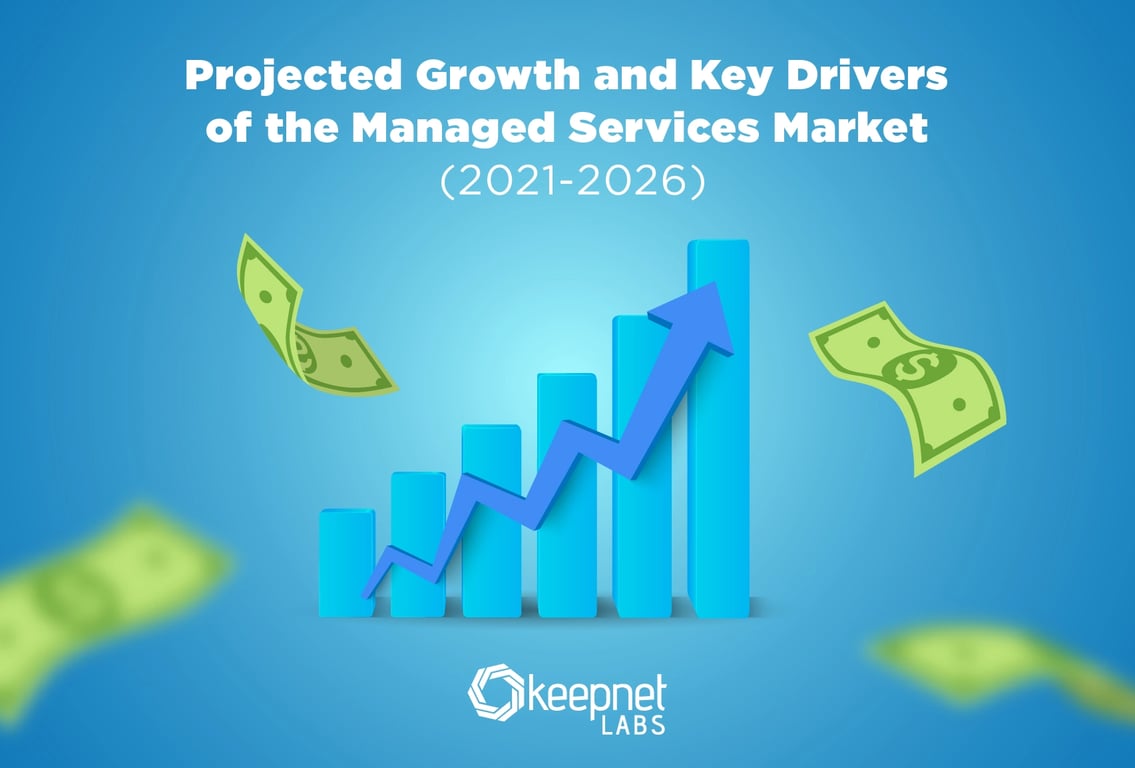 The managed services market, which includes Managed Security Service Providers (MSSPs) and Managed Service Providers (MSPs), was valued at USD 242.9 billion in 2021. It is projected to reach USD 354.8 billion over the next five years, registering a Compound Annual Growth Rate (CAGR) of 7.9%.
Major factors driving the growth of the managed services market include:
Lack of skilled IT professionals: This has led to an increased demand for managed services, as these providers have the necessary expertise to manage complex IT infrastructures.
Rise in demand for secure IT infrastructure during the COVID-19 pandemic: The shift to remote work has increased the need for secure IT infrastructure, leading to a surge in demand for managed services.
Cost and risk reduction: Managed services can help businesses reduce costs and mitigate risks associated with IT operations.
Requirements for regulatory compliance and security: Managed services providers can help businesses meet regulatory requirements and enhance their security posture.
Regarding regional growth, the Asia Pacific (APAC) region is expected to grow at the highest CAGR during the forecast period. This growth is driven by the adoption of advanced technologies like cloud, AI, ML, and IoT and the need for improved productivity in a highly competitive market.
In terms of service type, the managed mobility segment is expected to grow at the highest CAGR during the forecast period. This growth is driven by the rising demand for the Bring Your Device (BYOD) trend among businesses, which enhances organizational productivity.
Despite the growth, the managed services market faces challenges such as privacy and data security concerns, a lack of sales and marketing staff, and cybersecurity threats.
Collaborative Success in Managed Service Landscape
A partnership between our two organizations, yours and Keepnet Labs, would yield significant mutual benefits, particularly considering our model designed for Managed Security Service Providers (MSSPs) and Managed Service Providers (MSPs).
Here's how:
Expanded Service Offerings: With Keepnet's vast array of unique products, such as Voice Phishing (Vishing) Simulator, SMS Phishing (Smishing) Simulator, and Threat Sharing, your managed service business could diversify its cybersecurity portfolio and offer more comprehensive, multi-faceted solutions to its client.
Profitable Growth Opportunities: Our pay-as-you-grow and marketplace business models for security awareness and threat detection engines offer new revenue streams and cross-selling opportunities for your managed service business.
Competitive Advantage: Our fully automated phishing simulations and awareness training, which include cutting-edge features like SMS delivery, would set your managed service business apart in the crowded cybersecurity market.
Customer Satisfaction: With Keepnet's ISO and GDPR-compliant, highly scalable, and API-driven platform, your managed service business can ensure secure, flexible, and tailor-made services to its customers, thus enhancing customer satisfaction and retention.
Efficiency and Support: The seamless integration of our solutions into existing systems through APIs, US business hours support, and a well-documented technical product guide would ensure smooth operations and lower support needs.
Training and Content Diversity: Our diverse library, enriched by 12+ global training providers, will empower your managed service business to provide tailored training content to a wide range of customers. This ensures an adaptable and customer-focused approach to security awareness.
Enhanced Branding: The white-labeling feature we provide would allow your managed service business to strengthen its brand identity while delivering top-tier security services to its customers.
In short, a partnership with Keepnet Labs would support your managed service business in achieving its business objectives while concurrently helping it deliver exceptional value to its customers. We look forward to the possibility of working together and are ready to discuss this potential partnership at your earliest convenience.
Unleashing Potential, Together: Tailored Solutions for your managed service business
Experience the transformative benefits of partnering with Keepnet Labs Extended Human Risk Management Platform. Our managed service model provides unique, scalable, and flexible solutions to boost your brand visibility, foster customer trust, and provide robust cybersecurity services. Our offerings include white labeling, a multi-tenant platform, security awareness, and threat detection marketplaces, a pay-as-you-grow model, and much more. Explicitly designed for managed services, we integrate seamlessly with your existing operations, helping you deliver top-tier services to your clients while enhancing your brand's market presence and profitability.
Multi-tenancy: Achieve sustainable growth with the ability to onboard your channel partners and their customers on our platform. This solves the problem of restricted growth potential in traditional partnerships, fostering a synergistic relationship for collective expansion.
Marketplace for security awareness: Enhance your service portfolio by leveraging our security awareness marketplace. This resolves the challenge of limited cybersecurity education offerings and enables your clients to access many awareness resources.
Marketplace for threat detection engines: Improve threat detection capabilities by accessing our varied marketplace of threat detection engines. This solves the problem of reliance on a single detection system, broadening the scope of threat identification and strengthening your security measures.
Scalability on Amazon AWS and Microsoft Azure cloud: Supports business expansion seamlessly with our highly scalable cloud infrastructure. This addresses the need for a robust, scalable platform to accommodate your growth and support your expanding customer base.
ISO 27001, 27017, and 27018 certifications: Ensure robust security standards with our ISO-certified platform. This addresses concerns about data security, reinforcing the trust of your clients in your services.
GDPR compliant: Protect customer data and meet regulatory requirements with our GDPR-compliant solutions. This eliminates the risk of non-compliance penalties, ensuring your operations stay within the bounds of the law.
PowerBI Embedded Integration: Generate custom reports and insights using PowerBI integration. This addresses the need for tailored reporting and analysis, empowering you to provide valuable insights to your customers.
Special design for managed services: Leverage our solutions specifically designed for managed services to enhance your offerings. This addresses the need for specialized tools, enabling you to deliver superior managed services to your clients.

Schedule training for any time, and Keepnet will automatically deliver it at that specific hour in your customer's local timezone, whether PDT, GMT+3, or any other timezone.
Get training in multiple languages, allowing you to cater to a diverse and global customer base.
Gain complete visibility into email delivery status (delivered, bounced, failed, etc.) in real-time, which usually takes 2-3 days to troubleshoot
No performance issues as we use Amazon AWS CDN for content delivery
SCORM Cross-Domain helps organizations to host training on their LMS and track reports on both platforms thanks to the SCORM Proxy feature.

3700+ Customers from Diverse Industries: Harness our extensive experience serving over 3700 customers across various industries, ranging from 5 employees to 120,000. This demonstrates our capability to cater to a diverse array of needs and sizes, thus enhancing the appeal of your services to potential clients.
White-labeling: Increase brand visibility and foster customer trust by rebranding our services as your own, overcoming the problem of limited brand recognition, and establishing a more robust market presence.
References, including Ninjio, Living Security, Cyber Distribution, and more: Establish credibility through our associations with respected companies. This addresses the need for trust and reliability, reinforcing your reputation in the industry.
Direct Email Creation feature: Simplify email security management without the need for whitelisting on Office365 and Google Workspace. This solves the problem of complex email security processes, enhancing productivity and security.
No false clicks in campaign report: Ensure accurate campaign reporting without false click data. This addresses the problem of misleading data, enabling a more accurate understanding of campaign success.
Support during US, UK, and EU business hours: Receive dedicated support during US, UK, and EU business hours. This resolves the challenge of delayed assistance, ensuring timely help when needed.
Well-documented technical product guide: Learn to navigate our services seamlessly with our comprehensive product guide, addressing the challenge of product complexity and fostering smooth operations.
Self-service onboarding: Reduce operational burden with our self-service onboarding process. This addresses the need for efficient onboarding, saving time and resources for your core business activities.
Credit card payment option: Facilitate customer transactions with optional credit card payments. This addresses the need for flexible payment options, enhancing customer satisfaction.
Pay-as-you-grow model: Manage financial resources effectively with our flexible payment model. This addresses the problem of high upfront costs, allowing you to scale your expenses in line with business growth.
Flexible Pricing Model: Accommodate your financial strategy with our flexible pricing model. Choose between deal-based or bulk pricing options to best suit your business needs and growth plans.
Unique product offerings: Differentiate your offerings with unique products like Voice Phishing (Vishing) Simulator, SMS Phishing (Smishing) Simulator, and Threat Sharing, Email Threat Simulator, and more. This addresses the need for distinct services in a competitive market, setting you apart from competitors.
API-driven platform: Integrate our solution easily with any products and automate tasks like support tickets, invoicing, etc. This solves the challenge of manual processes, enhancing efficiency and productivity.
Delivery training through SMS: Stay ahead with our upcoming SMS training delivery feature. This addresses the need for innovative training methods, enhancing learner engagement and effectiveness.
Fully automated phishing and awareness program: Streamline security training with our automated phishing simulations, addressing the challenge of manual training and enhancing the cybersecurity readiness of your clients.
Co-Sales Activities and Training: Empower your sales program with our co-sales activities and specialized training, transforming your team into experts in email-based attack lifecycles and innovative solutions.
Co-Marketing Activities: Plan your annual marketing activities with our fully rebranded documents and custom, automated social media content designed to boost your brand awareness and generate leads.
Fully SaaS Platform, Private Cloud or On-Premise Version: Keepnet is a SaaS platform that also provides both private cloud and on-premise installations, ensuring you can meet the strict compliance requirements of various organizations, including government agencies, financial institutions, and more.
Join Our Unique Managed Service Business Model Today
Differentiate your service offerings and significantly accelerate your growth. When you join Keepnet Labs, you're not just getting a partner but a game-changer in the human risk management market.
Our unique managed service business model empowers you to enable your partners and customers on our platform, giving you the tools to potentially double your business growth year over year.
The opportunity to redefine cybersecurity services and set your business apart is here. Don't wait schedule a call with us now .