How an Insurer Cut
Phishing Claims by Nearly 89%
Discover how a leading insurer cut phishing claims by 89% and improved cybersecurity with Keepnet Labs.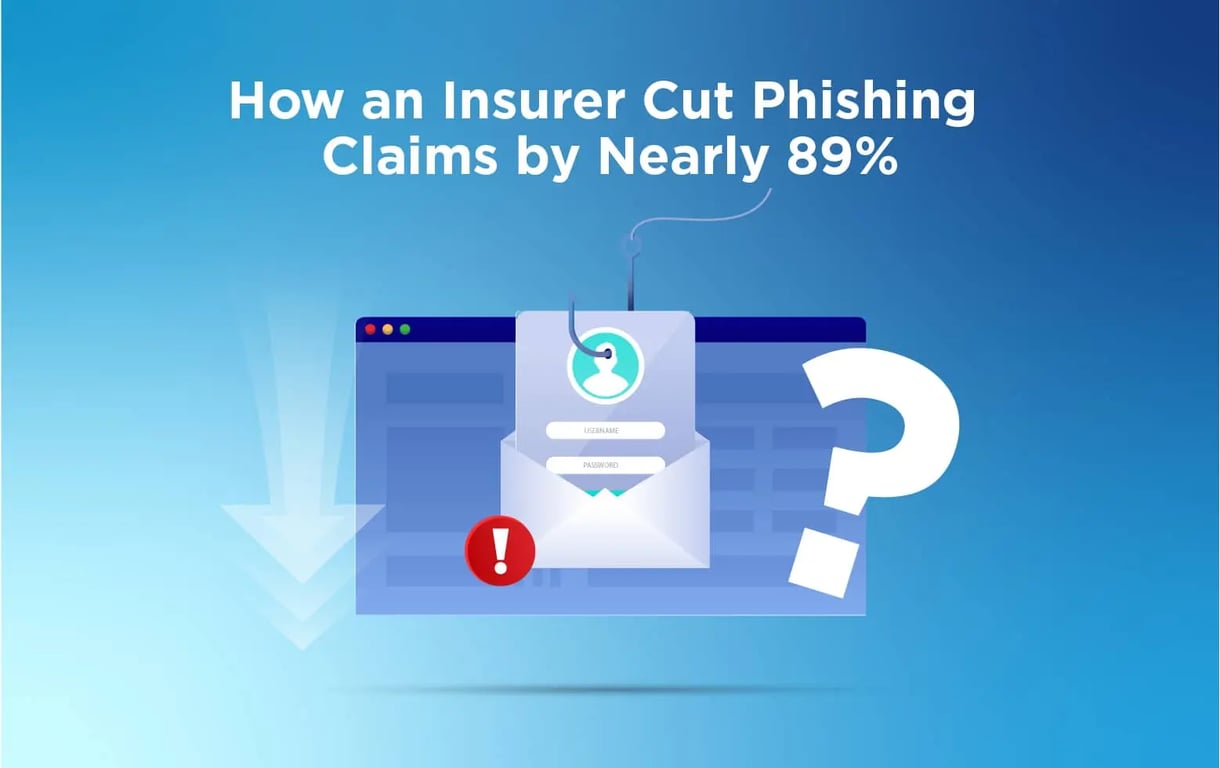 Introduction
A prominent insurer, operating in the European Union for nearly 60 years and boasting over 4,400 agents , 1,700 brokers, and with 4,000 employees, was grappling with escalating payouts. These payouts were primarily due to phishing attacks targeting their policyholders.
Recent data paints a concerning picture: Over the past 3 years, cyber insurance claims have surged by 100%, with payouts witnessing a staggering 200% increase. To put this in perspective, on average, companies face losses of approximately $1,500 per employee due to phishing attacks. This underscores the financial implications for businesses and highlights the potential compensations insurance companies might have to bear.
In their quest for a solution, the insurer sought a partner to address the phishing challenges faced by their clients. They needed a consolidated platform that could be offered to their clients alongside their cyber policies. The goal was clear: minimize the risk of breaches, reduce potential payouts, and ensure a safer, more secure digital landscape for all their stakeholders.
Successful Outcomes
By managing human risks across policyholders, cyber insurance payouts have been reduced by up to 89%.
The number of claims reduced from 1644 to 180 per year.
Understanding the Risks in the Cyber Insurance Landscape
Phishing Payouts: Phishing is the #1 leading cause of payouts in cyber insurance, leading to escalating costs for insurance companies.
Lack of Training: The absence of cybersecurity awareness training for clients increases vulnerability to attacks and subsequent payouts.
Standardization Issues: Cyber insurance lacks standardized policy terms, causing confusion among policyholders. The absence of historical loss data makes accurate policy pricing and loss prediction challenging.
Regulatory Challenges: The regulatory landscape for cyber insurance is still evolving. Varying requirements across jurisdictions complicate operations for insurers in multiple regions.
Surge in Claims: Over the past 3 years, cyber insurance claims have increased by 100%, with payouts rising by 200%.
"Since integrating with Keepnet Labs, we've seen a dramatic 89% reduction in cyber insurance payouts. This isn't merely a financial win; it stands as a testament to our commitment to client security and the trust they place in us."
- Oliver Abney, CISO of Insurance Partner
Return on Investment (ROI)
Median Cost of a Cyber Attack
Number of Claims Annually
How Keepnet Helped:
Searched for leaked passwords, emails, and other sensitive data to determine if policyholders' employees had been compromised.
Installed AI-powered phishing reporting add-in to provide detection and response capabilities to the policyholders and protect against potential attacks.
Identified risky behaviors among the employees of their clients, including those who fell for phishing scams and neglected to report incidents.
Implemented a comprehensive employee training program that incorporated elements from behavioral science, such as reinforcements, nudges, and gratitude exercises, to promote secure behavior.
Tested existing email security tools (SEGs) to identify vulnerabilities and guided the insurer in addressing these vulnerabilities for their clients.
Updated threat-sharing policies to include indicators such as attacker profiles, phone numbers, and tactics and helped the insurer share this intelligence data with its policyholders, local authorities, supply chain, and financial organizations for proactive prevention.
Operational Results
The insurance company addressed both human risk management and the lack of detection and response capabilities within its client base.
Within a year, their staff members and policyholders successfully identified phishing scams in 91% of the phishing campaigns.
A security culture was created across policyholders that reduced the risk of data breaches.
Strategic Results
Cyber insurance payouts have been slashed by up to 89% by addressing human risks among policyholders.
The annual claim count has decreased from 1,644 to just 180.
The improved incident response measures provide continued and deep-rooted protection across the policyholders.
Policyholders' employees now report phishing attacks, allowing the company to detect and respond to attacks.
Take the Next Step
Ready to transform your cybersecurity strategy and reduce cyber insurance payouts? Partner with Keepnet Labs and experience the difference. Book a one-on-one demo call with us now!